Dr. D. Sandhu
Dr. Sandhu graduated in 1998 from Amritsar (India). He practiced dentistry in DMC and Hospital Ludhiana India for 2 years. After working short time in India, he was selected to complete a D.M.D degree from UBC in 2005 and practised in Alberta for 3 years. He moved to BC in June 2008. This residency provided him with advanced Hospital Dentistry including oral surgery, anaesthesia, and treatment of medically compromised patients.
Dr. Sandhu is successfully running 2 dental offices in Surrey/Delta and New Westminster. He enjoys the challenge of providing quality family dentistry in a comfortable and friendly environment.
Dr. Sandhu enjoys travelling, hiking and numerous other outdoor activities.
For more information; you may also email Dr Sandhu at drsandhu@newsmiledental.ca
Dr. Satpreet Singh
Dr. Satpreet Singh graduated from Govt. Dental College, Amritsar (India) in 2011 and started working as a dentist. He then moved to Canada to challenge the Dental exams and at the age of 23, he became one of the youngest dentist in Canada. He joined our office in the beginning of 2014 and since then he is giving the comprehensive and state of art dental services from our clinics in New Westminster and Surrey.
Dr. Singh likes to explore nature and do adventurous activities. In the spare time he loves watching movies.
Dr. Bajaj
Dr. Bajaj did her degree in Dentistry from Government medical college in Patiala in 1989 and practiced dentistry for 20 years in India before immigrating to Canada. She did her DDS from University of Toronto in 2013 and is practicing dentistry in the lower mainland since then.
She is proficient in diagnosis and treatment planning and provides comprehensive multidisciplinary oral health care to patients with painless and positive dental experience. In her free time Dr. Bajaj loves to travel with her family.
Hardeep – Administrator
Hardeep has a pleasant attitude, friendly personality, positive energy and helpful nature. She is multi- lingual, organized, detail oriented and passionate about every aspect of her job.
She is a mother of two wonderful girls and enjoys spending time with her family.
Manjeet- Administrator/Plan Coordinator
Mannie is the face and the smile you will see first and last. She excels in her vast knowledge of dental administrator and is able to answer any questions clients might have. She has a remarkable personality that gives the comfort level to patients at their very first visit. She's also familiar with all the chair side duties in addition to her front desk work.
She enjoys going to the gym, listening to music, love to spend time with her friends and family.
Christmas Asa – CDA
A graduated and licensed dentist in the Philippines worked in Dubai health authority, Dubai U.A.E.A for 19 years as a senior dental hygienist.a presently working as a certified dental assistant at new smile dental group since 2012.
Sundeep- Administrator
Sundeep is the Dental Administrator at our New West Location and has been with New Smile Dental Group for over 7 years. Sundeep is exceptional at what she does because of her positive attitude and enthusiasm for Dentistry. She is also fluent in English and Punjabi. In her spare time she enjoys outdoor activities, shopping and watching movies.
Amandeep Hari
Aman has been a CDA for 6 years, she loves her job and has been working with New Smile Dental Group for 4 years. She is fluent in English, Punjabi, and Hindi. In her free time she loves shopping and spending time with her family.
Jamila- Hygienist
Jamila has a pleasant personality and very gentle with the patients. She takes great interest in planning every individual's hygiene protocol thoroughly based on their needs. She often gets compliments like "this was painless". She is very competent at her job and in spite of being gentle and painless she does a thorough jog.
Her decision to concentrate her skills as a Dental Hygienist was fuelled by exposure to the field through her friends. She enjoys all aspects of Dental hygiene, and keeps abreast of the latest developments in the field by participating in many continuing education courses. Her passion for dental Hygiene extends beyond clinical practice.
Teresa – CDA
Teresa has been with new smile dental group since 2008, offering her twenty years of expertise in the field. She exceeds in knowledge and experience regarding many dental procedures not limited to whitening, invisalign, ortho treatment, assisting in dental implants and fabrication of dental appliances.
She is very approachable, friendly and empathetic to every individual's needs. On her free time she enjoys opera music, hiking and long walk.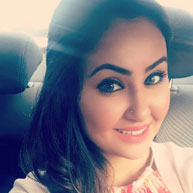 Fereshta- CDA
Fereshta is a quick learner, efficient, and sociable individual. She loves to get to know everyone and form a professional bond.
She is excellent with kids and has an upbeat personality. She is proficient in all aspects of her position as a dental assistant and has learned dental reception duties in very little time. She is fluent in English, Hindi/Punjabi and Persian/Afghani.
Welcome to the world of healthy teeth and smiles Our Well Qualified trained staff has been successful in bringing back the confident smile on numerous clients. Satisfaction of our worthy clients says all about their trust in our team.
Part of our commitment to serving our patients includes providing information that helps them to make more informed decisions about their oral health needs.